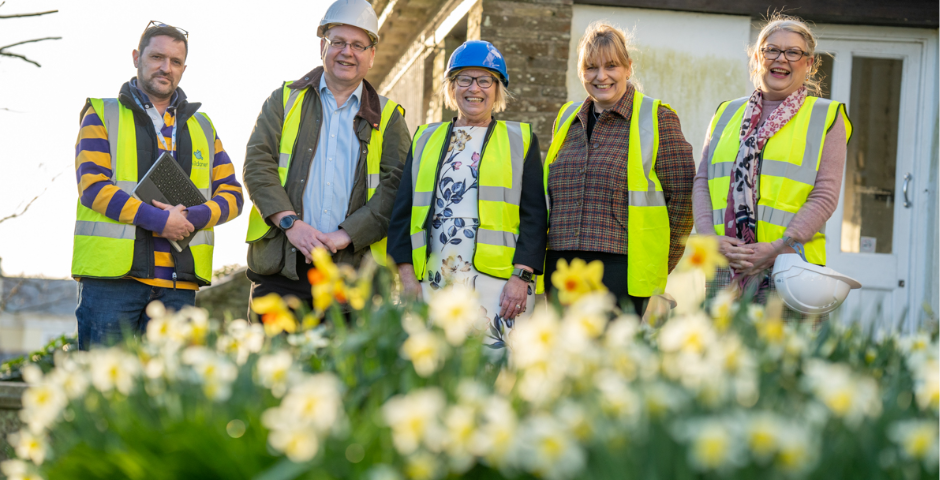 MP Sheryll Murray enjoyed a behind the scenes tour of work taking place to transform Liskeard's historic Westbourne House into new headquarters for Cornwall-based broadband provider Wildanet.
Westbourne House is the subject of an extensive restoration and renovation project after Wildanet took on the lease from owners Cornwall Council in 2021. The move was part of the company gearing up to roll-out its gigabit-capable fibre and wireless network in towns and villages across Cornwall, which is now under way and gathering pace.
Built in 1816 for solicitor N.W. Penrose, the house was once one of the grandest in the town and its gardens spanned what is now the Westbourne Car Park, with two connecting footbridges. In the latter part of the 19th century it was owned by Richard Hawke, then the wealthiest man in Liskeard.
Helen Wylde, Wildanet Chief Executive, Paul Bisco, Wildanet Project Manager, and Julie-Anne Sunderland, Wildanet Chief of People, hosted Mrs Murray, accompanied by her husband and agent Bob Davidson. They saw the work being carried out to uncover and preserve period features, including previously boarded-up fireplaces, as part of the scheme which will see the building become home to up to 85 colleagues. This is in addition to Wildanet offices in Redruth and warehouse at Pensilva.
Sheryll Murray, Member of Parliament for South East Cornwall said: "Wildanet is a fantastic example of an innovative and socially conscious business doing important work in Cornwall through its mission to bring fast and reliable broadband to rural communities.
"Wildanet's arrival in Liskeard and the high quality jobs they are creating here has been a welcome boost for the town, as was their decision to choose Liskeard to kick start the rollout of their new network in 2021.
"It is exciting to now see the work being done to revitalise the historic and much-loved local landmark of Westbourne House and I wish the company every success in its new home."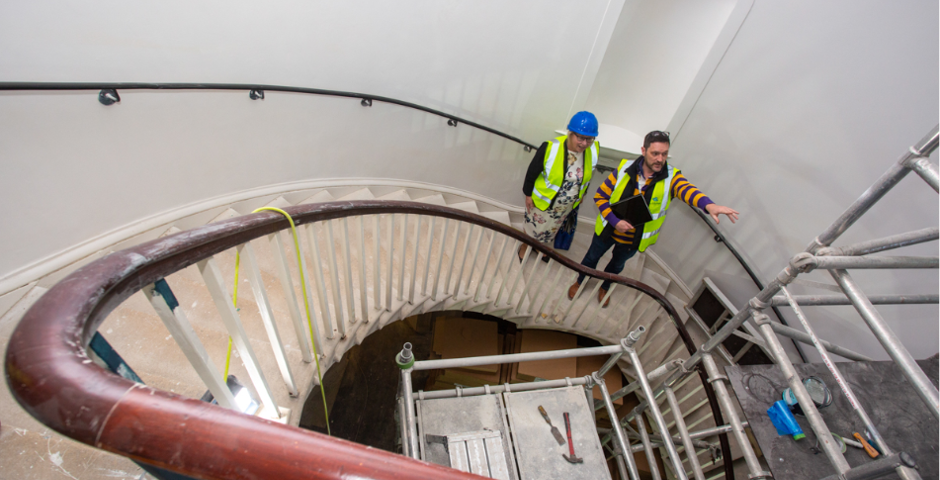 Founded in 2017 to bring superfast internet access to rural and hard to reach areas, Wildanet secured a £50m investment from the Gresham House British Strategic Investment Infrastructure Fund in December 2020.
Wildanet Chief Executive Officer, Helen Wylde, said: "We were delighted to show Mrs Murray the work under way at Westbourne House and to have the opportunity to update her on the progress of our rollout, bringing reliable, high speed internet access to homes and businesses in rural and hard to reach areas across Cornwall and the Southwest.
"We know that the government shares our view on the importance of digital connectivity in rural areas and need for improvement in this respect, as evidenced by it's
Project Gigabit programme, where Cornwall is among the first wave of areas to benefit from financial support targeting almost 54,000 homes."
Wildanet's ethos is that no-one should be forgotten or left behind by the digital revolution because of where they live or the standard of service they receive.
Despite the overwhelming reliance on the internet in so many areas of modern life, latest ONS figures show in the Southwest there are still more than 220,000 people aged over 16 who have never used the internet. And more than half of those are in Devon and Cornwall.
Wildanet's mission is to give them the connectivity they need and deserve by providing the fastest and most reliable network for everyone, wherever they are.