What is the ISDN and PSTN switch off?
The PSTN (public switched telephone network) is a system that supports traditional phone lines in the UK. It relies on copper cable networks that have been in use for nearly 150 years. The ISDN (integrated service digital network) is a protocol that uses the same copper cable infrastructure in many cases, but can also use fibre optic cables.
Both of these systems will be retired in December 2025. After this point, all phone lines will be powered by VoIP (Voice over Internet Protocol) technology. Other systems that use the ISDN or PSTN lines will also move over to Internet Protocol, including traditional CCTV, alarms, door-entry systems, and fax machines.
Standard fibre-to-the-cabinet (FTTC) broadband relies on the same network of old copper cables. This type of broadband will remain available once the ISDN and PSTN switch-off has happened, but it'll still be subject to the same constraints we've come to expect from a copper connection – lower speeds and less reliability when compared to fibre or wireless broadband solutions.
Why is the copper network being switched off?
The PSTN network has been in active use for nearly 150 years at this point and was originally designed simply to allow for telephone communication across the United Kingdom. Over time, the scope and requirements for the service have grown, partly in line with the growth of the population, though largely due to the digital revolution the globe has experienced in the past 60 years. 
The ISDN protocol was introduced in 1986 to expand the capabilities of the copper network. It has allowed for an expanded number of services to operate through the aging network, including FTTC broadband internet.
Since then, the needs of the nation have only continued to grow – with no signs of slowing down – and the aging network simply cannot deliver the reliability or capacity required. For this reason, steps have been taken to modernise the network and improve reliability through the copper switch-off and move towards VoIP.
What is going to change for me as a consumer?
At present, you'll only see changes if you live in certain areas. The copper switch-off has already started to take place in cities like Southampton, but the effects won't be felt in other parts of the country just yet.
By 2023, there will no longer be sales of traditional landline contracts to the public nationwide. In preparation for the ISDN and PSTN switch-off, all standard phone line contracts will need to be changed to a VoIP contract by December 2025.
If you're already in a contract that extends through 2025, you won't have any price changes. At most, you may find that your phone line will be plugged directly into your router to allow for calls, which will mean that you must have an active broadband internet connection in your home by 2025.
What will the ISDN and PSTN switch-off mean for businesses?
If you're concerned as a business owner, it would be wise to take a more proactive approach to securing your phone services via VoIP. 
Nearly half of businesses in the UK have already made the switch to a hosted telephony service, routing calls through their enterprise broadband package. If your current contract uses ISDN or PSTN lines, you'll want to review if a VoIP package would suit you better now or whether you should consider the switch closer to 2025. Keep in mind that by 2023 you won't be able to renew a copper-based telephony package.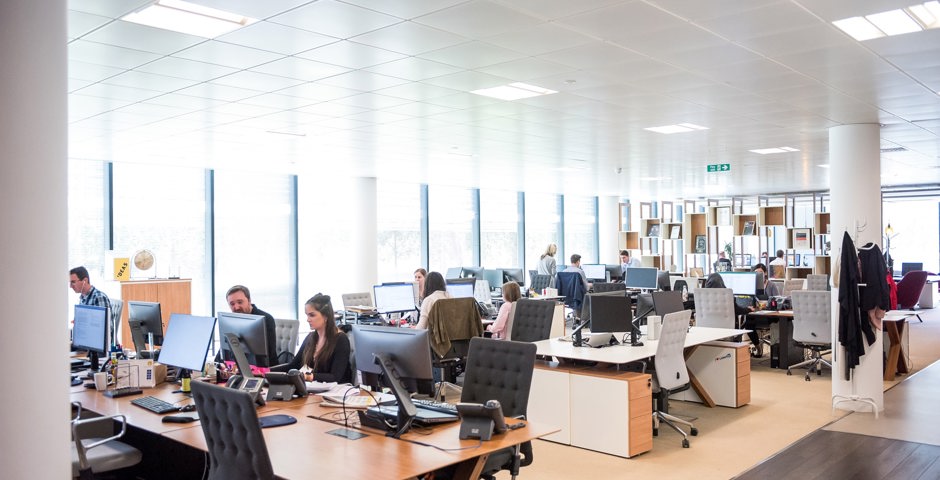 Switching over to VoIP
In preparation for the copper switch off in December 2025, both home and business customers will need to switch over to VoIP. Here, we take a deep dive into VoIP, its benefits, and why you might want to consider upgrading ahead of time.
What is VoIP and how does it work?
First used in the 90s, VoIP (Voice over Internet Protocol) is a technology that enables you to make and take phone calls over the internet. Whilst standard PSTN and ISDN phone lines rely on the analogue system of copper cable networks, VoIP is digital – it just requires you to have an internet connection and an IP phone.
With VoIP, your IP phone connects to your internet router. The process of making a call via VoIP works like this:
You enter a phone number and press call.
Your IP phone connects with your VoIP service provider.
The provider initiates the call and transfers data to and from your IP phone.
This data is converted into sounds, enabling you to speak to and hear whoever you're calling.
All of this happens almost instantly, much in the same way as a conventional phone call. In fact, the experience of making or receiving a VoIP call is very similar, so you wouldn't notice the difference.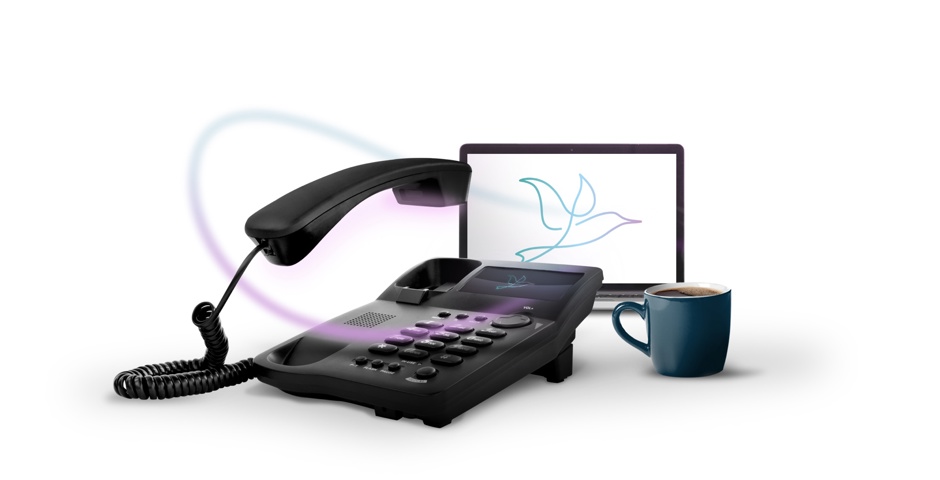 Is VoIP any better than PSTN and ISDN?
Based on the fact that the copper switch-off is happening, you've probably already gathered that VoIP is much slicker than its PSTN and ISDN predecessors in many ways. The old copper network offers fewer functionalities, costs more, and is more prone to service dropouts.
In the UK, we're a little behind the curve when it comes to the PSTN and ISDN switch-off. The Netherlands and Estonia have already made the switch, and many other countries are ahead of us in replacing older phone line systems with VoIP.
More reliable connection
The improved reliability of VoIP is one of the main reasons why the old copper network is being switched off. PSTN and ISDN phone lines often experience dropouts that can disrupt your phone calls. Provided you have a reliable internet connection, an IP phone will offer you a clearer, more consistent connection than a traditional phone line.
Portability and advanced functionalities
With VoIP, you can make and receive calls through your phone line from any device, wherever you are. In addition, you can also choose IP phone packages with advanced functionalities. Business users can benefit from features like call forwarding, automatic rerouting to the correct department, and integration with CRMs.
Reduced costs
In most cases, VoIP is cheaper than a conventional phone line. This tech relies on your existing internet connection rather than the service provider's infrastructure, so they can usually offer you a better price. Even if your package includes more advanced features, it'll often be less expensive than a standard ISDN phone line.
Easier to scale
IP phone systems make it much easier for businesses to scale. As PSTN and ISDN phone lines require copper cabling, increasing the number of users on a system could mean you have to expand on existing infrastructure. Most VoIP service providers operate using the cloud, so you can add as many extra users as you like without delay.
Potential disadvantages of VoIP
For all its merits, there are some drawbacks to VoIP that still need to be ironed out.
Copper network phone systems have a battery backup. This means that, in the event of a power cut, traditional phone lines will still work. VoIP phones won't work in this scenario because they rely on your internet, which cuts out if there's no power. Discussions are ongoing around how to offer battery backup for VoIP phones in homes and businesses.
Another potential issue relates to access to emergency services. With a VoIP phone, you can choose any phone number with any area code. If you live in Cornwall but have a VoIP phone number with a London area code, you could be connected to the London emergency services when you ring 999 if your VoIP service is not set up correctly. 
Wildanet's VoIP services are designed to connect you to your local emergency services, whatever phone number you choose. Always check that this is the case before signing up with a VoIP provider or selecting a number with an area code that matches your location.
Should I switch over to VoIP early?
From 2023, you won't be able to sign up for traditional phone lines anymore – and all homes and businesses will need to upgrade to VoIP before the ISDN and PSTN switch off in December 2025.  With this in mind, it makes sense to get ahead of the game by switching over early, particularly when you can save money and get a better phone connection by doing so.
If you're considering replacing your traditional phone line with VoIP, it's important to make sure you're ready for the change. A reliable high-speed broadband connection will ensure consistently reliable service and enable you to make the most of your new IP phone.
How Wildanet can help
To ensure that your home or business is ready for the copper switch-off in 2025, we highly recommend you secure a high-quality broadband internet package, as this will drive all communications moving forward. 
Wildanet provides ultra-fast fibre and wireless broadband in the UK – use our postcode checker to find out about availability in your area. 
If you choose us as your internet provider, we also offer VoIP phone packages. Contact us online or speak to our sales team on 0800 0699906 to discuss what options are available to you.